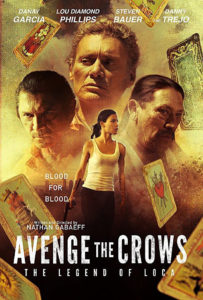 I was reading a post by Tarot by Seven, LLC where Tsura Nuri (Seven Stars) mentioned the 2017 film Avenge the Crows – The Legend of Loca. A special edition of her Deck of the Bastard was used in the film. By chance, or not, I had put this film in my Amazon Prime cue just a day before. How serendipitous was that?
As a reader, I'm always excited to see the use of cards in films. In fact, I had recently ordered a DVD of the James Bond film Live and Let Die just because of this. This 1973 film features a prominent role by the psychic tarot reader Solitaire (Jane Seymour). She is a virtual prisoner of the villain, Mr. Big and, of course, becomes a love interest of Mr. Bond.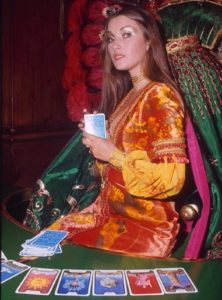 Solitaire predicted events with her special version of Tarot of the Witches by Fergus Hall. A standard version of this deck is available from U.S. Games. Her readings, occult inheritance and skills were crucial to the villain's plans and pivotal to the story. Sorry, no spoilers! Just watch it!
Avenge the Crows – The Legend of Loca is a gritty, very real-world film set in the East Los Angeles barrio. It stars Danay Garcia (Loca), Lou Diamond Phillips (Casper), Steve Bauer (Ronaldo) and Danny Trejo (Antonio). It was released in 2017 and was written and directed by Nathan Gabaeff, a fine, young, upcoming director. You can stream it on Amazon and on Showtime.
The backdrop of the movie is the East L.A. barrio. Life can involve a never-ending cycle of revenge. Life is truncated and limited to a space between freeways, streets and you and your family's history. Family means your flesh and blood, but also your friends and your gang. You don't travel far. Your aspirations can be severely limited by your financial situation, pressure from your family and your gang affiliations. The most you likely hope for is that you will make enough money to have a few good things. Earning money can often involve questionable activities.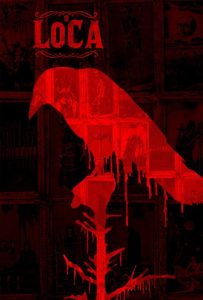 Loca once ran the powerful Los Grajos gang (The Crows). She is now an ex-gang member and makes money as a drug dealer while keeping an eye on her cousin Cammy, the only surviving family she has. An assassin name Joker is released from prison with orders from the Reyes Ricos gang to take her out.
Many films feature tarot readers and readings cast in a shallow, negative light. Readings often feature spreads with the more visceral, negative images accompanied by predictions of terrible fates. Readers are often portrayed as corrupt individuals preying on the weak and easily influenced or, at an extreme, in league with the forces of darkness.
Really? Enough with the condescension and cartoon characterizations. Thank God for movies like Avenge the Crows where the cards are woven into the film without condescension or condemnation. They are simply useful tools to deal with life.
Loca reads tarot cards in many situations throughout the movie. It is an integral part of her interaction with life and spiritual practice. When Joker is being released, Loca is with Antonio (Danny Trejo) in his bar. She lays down a card for him – the Tower. After she describes what it means for him he responds defensively "I think that it's for you Loca!" It turns out he is right. When she leaves the Tower card with him he screams "Take your bruja shit outta here!" (A bruja is a witch or sorceress).
In every new character introduction and episodic transition, a different tarot card or spread is briefly featured. Everything has meaning. Look for it!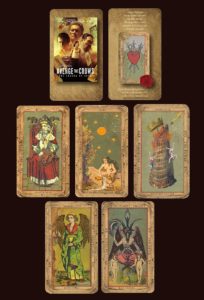 I let Tsura of Tarot by Seven, LLC know how happy and proud I was for her that her Deck of the Bastard was so strongly and respectfully featured in the film. It is the perfect deck for the film – gritty, uncompromising and real. She provided a special version of the deck for the film. You can purchase the film version or regular version of the Deck of the Bastard on her website: www.tarotbyseven.com/.
This film really touched me on a personal level. When I was 15, I moved into, shall we say, an interim housing situation on the outskirts of L.A. This interesting portion of my life was filled of lots of exposure to fellow young men who grew up in the East L.A. barrio.
After a few months I became increasingly irritated seeing them go home before me. I was a leader and was exceptional in school. Why were they getting out before me? I finally let one of my counsellors know how angry I was and asked him why the East L.A. boys were being released to go home earlier than me. I still remember his reply. He said, "Brian, you have a chance. These boys are going back to their neighborhoods where nothing will change. Their chances for a better life are slim because of the environment they return to. There isn't a lot we can do for them because of that." It seemed a small consolation at the time, but I understood how he felt.
I remember the Greyhound bus rides on the way back to my home on three-day passes. The bus route wound through parts of East L.A. To my eyes, it looked like a hopeless, apocalyptic landscape. I had no idea that such a desperate-looking world existed less than 100 miles from my home.
So, is fate foreordained and completely out of our control? If you're born into a certain neighborhood and environment is your life and destiny not your own? Does Tarot simply reveal an unavoidable future, or does it allow us to plan and nudge destiny in the direction we want to go?
Loca would be the first to say that Tarot is a wonderfully useful map and mirror. She knows that, when the Tower is pulled, it's time to prepare for war. It's good to be forewarned and aware. Then much of your destiny is up to you.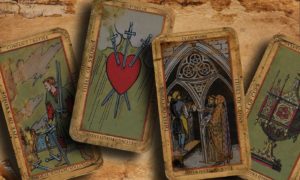 Tsura encouraged me to let Nathan Gabaeff know how his movie had touched me. I left him a message complimenting him on the movie as "authentic, hard-hitting and brutally honest about life in the barrio" and his brilliant integration of Tsura's tarot cards into the movie. I let him know I was a card reader too.
Tsura had encouraged me that my sentiment would be appreciated so, I guess I wasn't surprised when he replied! His reply:
"That's awesome! Thanks so much for reaching out and I'm glad the film carried meaning for you. I too love the use of the cards in the movie as symbols and visual representations of different feelings and manifestations of the characters as you said. Using tarot throughout the film as part of her spirituality was one of my favorite aspects of the character."
The movie isn't an indictment of those who live in the barrio. It is respectful and real. When Loca's situation spins out of control as a reader she knows what is coming and can plan and set her intent. Loca and her boyfriend achieve a measure of happiness. They assume responsibility for their circumstances and are thankful for their love and blessings.
I look forward to more films from director Nathan Gabaeff! His artistic portrayal of these gritty characters living their all too real lives is a hit. His use of Tsura's Deck of the Bastard is integrated into the movie in a masterful and artistic mosaic. Card readers can celebrate this as a huge win!