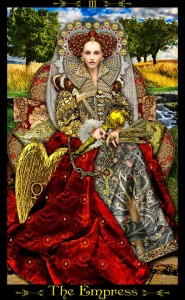 What is Tarot?
Tarot cards were created in Italy in the 1400s as a card game and evolved over the centuries into systems of divination, fortune telling and as tools for self-discovery. I use Tarot, Oracle, Lenormand, and playing cards to obtain inspired answers for you.
Images are the root of all language and communication. Tarot contains a set of archetypal images, colors and numbers expressing all of the essential aspects of life. The act of reading involves interpreting the synchronicity in a card spread using the reader's learned knowledge, intuition and psychic skills.
Oracle cards are a different system for obtaining inspired answers. There are fewer cards and the spreads typically contain fewer cards. Sometimes I will use both in a reading. These are themed decks typically focusing on a single topic or area of life: i.e. love, life purpose, health, heavenly assistance and answers, past lives and more.
Lenormand cards are another system providing more direct, on-point inspired answers. It is a 200 year old system developed in the heart of Europe composed of a deck of 36 cards. The images are more simple and straightforward than most tarot or oracle card images. Lenormand typically involves more earthly, tangible issues rather than psychological and spiritual ones.
The use of playing cards in Europe predate Tarot cards by around 50 years. Brother John of Rheinfelden wrote "Thus it is that a certain game, called the game of cards, has reached us in the present year, namely AD 1377…." Like Tarot cards, playing cards likely had the original use of game playing. They were definitely being used for predictive purposes by the 16th century by such luminaries as Dr. John Dee, Queen Elizabeth I's mystical adviser and by Rizzio, the Italian lover of Mary Queen of Scots. (The Fortune Teller's Deck, Jane Lyle, St. Martin's Press 1995)
How do you read?
I will help you with whatever is on your mind. I will seek inspired answers to appropriate questions by choosing the proper deck, system and spread for the question. I will often read for a question with several decks and spreads. My goal is to provide you with useful information so that you can transform your future for the highest good.
I do not read by the static definitions of the card images, but read the poetry of the story as it is expressed in the spread as influenced by whatever psychic energies are present.
Are you psychic?
I am an intuitive reader and I do employ a set of psychic skills. I open up to your energy, my intuitive knowing which includes my innate wisdom and learned knowledge, the Divine, the environment of the reading and whatever physic energies are present.
Do I need to ask a question for a reading?
This is not required, but for the best reading – YES. I will help you phrase your questions so that we obtain the best inspired answers for you. Questions should be specific and open ended. Most of the time when we consult the cards we are at a point in our life when we want to make a decision or we are facing a challenge. We want to know how best to handle these matters and about what, if any, action is needed. It is usually best to avoid yes or no questions or any questions that would deflect your responsibility and free will.
I suggest not beginning a question with "Should I…" For the best answers I suggest beginning questions with:
Can you give me insight into…
What is the meaning of…
What is the lesson or purpose of…
How can I improve my chances of…
What do I need to know about…
If you have a challenge with your questions I can help you to phrase them appropriately so that we will receive the highest good for you. Email, call or text me and I will give you direction for phrasing your questions: 805-637-1031 [email protected]
Can you read the future?
I can read a likely future outcome for your question given all of the variables present at the time of the reading provided that nothing changes. However, you have free will. If you choose to change any of the components that make up the context of the reading you may change the outcome expressed in the reading. Much of the outcome remains up to you.
I believe that every person has the ability to change future outcomes because of free will, but there is also destiny. Each soul is on a path of evolution. There are things that need to be experienced and learned in order to evolve. You can choose not to participate in an experience or ignore a lesson, but they will continue to appear until they are accomplished and learned.
How soon will I hear back from you to make an appointment for an in-person reading, Zoom, Skype reading, or receive an email reading?
In person readings:  Please email, call or text me to make an appointment. I will either email, call or text you within 24 hours to set up your appointment. In-person readings may be paid for at the time of the reading via cash or credit card or in advance via Venmo – @Superconnected, PayPal here (accommodates credit cards) or on the Book a Reading page.
Zoom Readings:  I will need your email address. Zoom readings are a 30 minute minimum. Please pay for your Zoom reading on the Book a Reading page and then email or call me for an appointment. I will email or call you to arrange the appointment within 24 hours from receiving your request and confirmation of payment.
Email readings:  Email readings are a minimum 30 minute reading for two questions. Just email your questions to me after making a payment on the Book a Reading page. I will confirm that I have received your questions and payment and read for you within two days. If I have an issue with this deadline we will let you know ASAP. Please be sure and read the FAQ section on phrasing your questions.
Please call, text or email me if you have any questions: 805-637-1031 [email protected]
Do you refuse anyone? 
Yes, if you are drunk, impaired or under 18 years of age and do not have the permission of your parent or guardian. I will also terminate the reading if you are rude, disrespectful or abusive. Sometimes I suggest to emotional distraught clients to wait until they are calm enough to receive inspired answers. In this case we would re-schedule the reading.
Will you read for any question?
I do not answer questions concerning gambling.
I will not read for pregnant women regarding the health of their baby.
I do not typically answer questions concerning death.
Booking Policies
I require a 24 hour cancellation of an appointment. If this is not honored, then I will refund half of your payment. All Zoom and email readings are paid for upfront via PayPal on the Book a Reading page unless other arrangements have been made. In-person readings can be paid for at the time of the reading or via Venmo or PayPal on the Book a Reading page. The directions of how to pay for a reading in advance are on the Book a Reading page.
Disclaimer
I am not a mental health counselor, therapist, doctor, attorney, investment counselor, licensed financial consultant, God or a higher power. I am a card reader. By participating in my card reading services you acknowledge that I am not a member of the above professions and that I am not a qualified specialist in these fields. You also acknowledge that you are at least 18 years old or that you have permission from your parent or guardian.
I will offer you my expert card reading services, but do not guarantee the results of any reading. I will deliver my card reading services to the best of my abilities.
By participating in a reading you agree to the following statement: "Except in the case of gross negligence or malpractice, I or my representative(s) agree to fully release and hold harmless Inspired Answers and Brian Bailey from any and all claims or liability of whatsoever kind or nature arising out of or in connection with my card reading services."
Save
Save
Save
---
Stay Informed
To subscribe to our email list, click here.