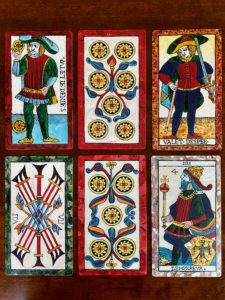 It's a new year, and it's time for some clean cuts. I like the martial arts metaphors of Camelia Elias in her tarot practice. She describes it as such:
"There's hardly a single piece of writing or instruction from my hand that does not emphasize cuts. Three divination books and some 500 free essays online are all about using cards to make sharp, precise, clean, and elegant cuts, along with an appreciation of what a deep incision can reveal. Right then and there."[1]
Large, complex spreads can be fun, and they have their place, but they can also be tedious and awkward especially in an in-person reading. They can even be awkward in reading for yourself too especially in a new year spread. I have done complex spreads for the coming year and have constantly had to check in for the month in question, my state of mind when the spread was cast, positional meanings, nuances, etc. I find it impossible to memorize 12 months of these messages covering the entire next year. I am sure my clients have gone through the same excruciating exercise.
I am ready for quick, clean cuts! Two lines, three cards each.
What will rise for me in the next year? (you can also think of this in terms of what you will experience more of)
What will fall for me in the next year? (you can also think of this in terms of what you will experience less of)[2]
What will rise:
Money matters are very much on my mind. I am a bit unmoored (two Valets) as I transition from an intense 41-year career in commercial real estate brokerage into a more relaxed lifestyle with not much left to stress over. These concerns remain with me (Valet De Denies and 7 de Denies) as I consider whether to sheathe my sword or keep it out (Valet Despee).
What will fall:
Stress and dislocation ease away. The stress of constant competition and renewal (7 of Batons and money (5 of Denies) are under control by Lemperevr. It is interesting that the Emperor is supplanted by the Valets. Oh well; out with the old and in with the new![3]
Are you ready for your martial arts cartomancy for the near year? Contact me and we'll do it!
_________________________________________________________________________
[1] Your New Year Reading in Two Shots (patheos.com) Camelia Elias 12-21-2020
[2] Ibid
[3] Deck: Tarot De Rivesaltes, Ben J. Gross 2020, bengrossart.com tarot-de-marseille-heritage.com