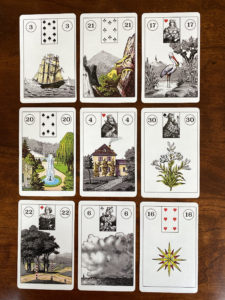 Today is April 7th, 2020 here at Coronavirus central in Santa Barbara, California. In keeping with the news cycle of "All Coronavirus, All The Time" I thought I'd lay out a block of nine Lenormand cards in response to the question "Where are we headed in the next month with the Coronavirus?" This time frame would be mid-May to June 2020.
I like that House appeared as the central card. Isn't that the way it is for everyone right now? Home is where the heart is and currently everything else too! Ordinarily this card has more of a "home and hearth" feel – a sanctuary from the stresses and pressures of the outside world. It's still like that, but at present it also feels like a fortress and quarantine ward too! House is bracketed by Garden in the past and Lily in the future. Garden parties are a thing of the past right now except on Zoom. Lily suggests wisdom and advice in the future as well as a return to older ways.
Upheavals are usually unpleasant like this one. The first (lower) line is Crossroads, Clouds and Stars. This is the inception of the virus in California in March – the beginning, contagion spread and clarity about the situation.
The top line is Ship, Mountain and Stork. I see this as transition (rather than travel) from a huge challenge to the beginnings of something new. I would see "something new" as promise – "light at the end of the tunnel." With Mountain as the center card on this line I wouldn't see that as immediate. The corner cards – Ship, Stork, Crossroads and Stars, as a group, don't suggest anything dire, just change and that for the better. I would have loved to see Sun or Clover in this spread as suggesting more immediate, positive improvement.
The overall message is that things will be improving. With Mountain and Clouds above and below House the improvement will be incremental rather than a wholesale instantaneous improvement. New infection rates should be diminishing. Perhaps more segments of commercial businesses will be allowed to open again.
Hang in there! Remember – You can't calm the storm…so stop trying. What you can do is calm yourself. The storm will pass (Timber Hawkeye).
_____________________________________________________________________________
Deck: Starduster Lenormand by WanderingOracle on Etsy (oop) – a reworking of the Stralsunder Lenormand published by Vereinigte Stralsunder Spielkartenfabriken, Strasund, c. 1980 although an earlier Dutch version appears to be from 1868.