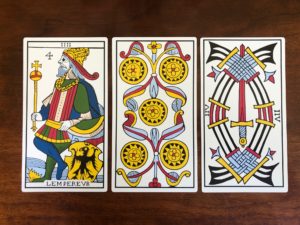 Tarot De Marseille Jean Dodal
Lyon c. 1701
Restoration:  Jean-Claude Flornoy
This spread was posted with a question in one of the groups I am a member of. The question was "What advice would you give to The Emperor?"
The thing that occurred to me immediately is that The Emperor is gazing into the past, reflecting on his life. Then a poem started to come to me and not a very happy one. The Five of Coins appeared to me as his minions and the peoples he had conquered. The Seven of Swords spoke to me of his final moments as he reflected on his life. Might it have been different?
The Emperor is not just the monarch of a country. He is a king of kings presiding over vast territories and many countries. What must his life be like? Armies and peoples are conquered and subjugated. Tribute and taxes imposed. Lives, cultures, religions and art lost forever. What might this man reflect on?
To answer the question posed – He should reflect on my poem of course!
The Emperor's Reflections
He dreams of glory
great and bold
With his body
growing old
He dreams of battles
far and wide
Where young men's lives
he took with pride
What a full life it's been
so full of pride and full of sin
Now neck in noose
there is no pardon
He wished we'd never
left the garden