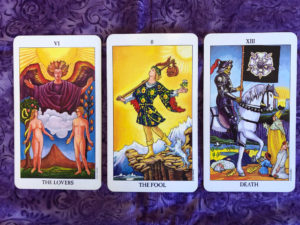 Shadow of a Flag
Forced from the garden
And cast out into the world
All for an apple
Napoleon discovered
That men will die for ribbons
Our lives sold for a trifle
________________________________
The poem form is a tanka, a Japanese poetic form similar to the haiku. The entire quote attributed to Napoleon is "Men will risk their lives, even die for ribbons."
I made the video when I noticed the moving shadow of a flag on the sidewalk while on a walk. I didn't have a poem in mind when I made it. I just thought that it was interesting and probably significant. After viewing it a bit more and thinking about it, the poem rose within me.
The card spread is not a draw. I selected these cards as illustrative of the poem.
The power of objects and symbols over our psyche is immense. That is why seemingly insignificant things can sway us to give up our lives, take the lives of others or do other things for good or evil. Those who would lead us to where they would like us to go know that. Understanding this power is the best defense. It's best to be very aware and present so that you don't succumb to manipulation.