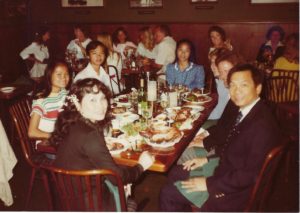 This story is not about card reading, but does speak to intuition and clairvoyance. My wife, Terri is going through boxes of pictures and came across this one from around 1983. This was a dinner celebration at the Harbor Restaurant on the Santa Barbara wharf. I had taken Terri to lunch several times, but this was our first "real" date.
I have been a real estate broker since 1979 (and a card reader since 1977). I had promised Dinh Truong, a real estate client of mine, that I would take his family out to a lobster dinner once we closed what would become the International Market building at 6551 Trigo Rd. in Isla Vista. His wife Nhan Vu is in the front of the pic. on the left and Dinh is on the right. On the left, beginning from the front are his children Nhan, Dinh (Jr.) and Hua. I am sitting behind Dinh on the right and Terri is behind me. Yes, I had brown hair at one time!
Dinh was a pilot in the South Vietnamese Air Force when the war was lost. He remembers being in the air and hearing the announcement. He couldn't believe it. Once he landed, the family had about 30 minutes to leave the country. The family immigrated to the U.S. and opened a market in the 400 block of Anapamu St. at the dead end at 101 next to a pedestrian overpass to the Westside. The market was in the front of the property and the family lived in an apartment in the back.
I was referred to him by a fellow agent in 1982. The market had been robbed twice and his son had been shot in the leg. It was time for a move. We began to scout out alternative investment properties. Dinh and the family ended up being great clients and good friends over decades. They purchased four commercial and multifamily properties in Isla Vista over the next 10 years.
Meanwhile, back to the dinner. Nhan Vu ended up sitting next to Terri after dinner. Terri had a bit of trouble with the accent, but she did hear Nhan telling her that she would marry me! At this point, Terri wasn't sure she even liked me, so this was a pretty shocking conversation to her. I did know that Nhan was what the family referred to as a "seer" or "truthteller". She was clairvoyant. How's that for a first date? We married in 1985 so we've been together for 33 years!
Dinh was able to put daughter Nhan through medical school and Hua through dental school. His son, Dinh, helped operate the business and inherited the business and property when his father died about a decade ago. The other family members moved to Orange County.
I visit with Dinh Jr. and his wife and two sons occasionally and I've talked with the daughters and Nhan once in a while. I miss Dinh immensely. We had a great friendship and he was always very grateful for my help. Tears come to my eyes when I write this.
I feel blessed that Nhan's prediction was right about Terri and I. I also feel blessed to have known this great family!